The Printing Rooms in Beaune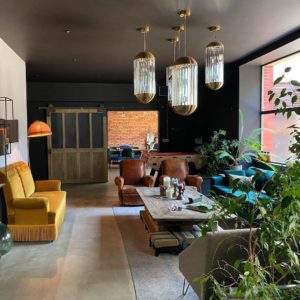 A stone's throw from the city center and the train station, Marie and Sébastien welcome you to an atypical place: an old printing house that they have transformed into guest rooms, Coffee Shop & coworking, where life is organized in a peaceful spirit which encompasses quality, ethics, ecology, and human values. A place of life as we like them: beautiful, lively, diverse, which has meaning, and where nothing is left to chance. A whole concept that goes perfectly with that of My French Tour.
Followers and fans of the loft spirit, you will be served!
Glass roofs, walkways, beams, large spaces, everything is there! You will sleep there in beautiful sheets, in responsible organic linen, and can without problem start a long reading session nestled on the sofa in the living room, or in the calm of your room.
You will eat homemade jam made from the fruits of the vegetable garden. You will probably also drink the best coffee in town – organic and responsible of course, to pair without hesitation with the chef's Peanut Butter cookies.
We love Sébastien's fresh, seasonal cuisine at La Cantine, Marie's benevolence, connections with local artisans, homemade juices, jams, and syrups …
And of course, we love to pick up our passengers there for a deudeuche ride because they inevitably have a smile when they leave this wonderful address.
Definitely one of our best addresses in Beaune.
The Printing Rooms
5 bedrooms from 120 € per night
Urban Refuge that can accommodate up to 13 people.
www.limprimeriebeaune.fr