At My French Tour, we are demanding. It is therefore quite naturally that we do our best to:
– give you an authentic experience;
– help you understand better Burgundy and its wines;
– share with you our tips for our region;
– to provoke beautiful encounters;
and let's be honest: impress you with our landscapes of vines as far as the eye can see.
In all of this, the most important thing for us is to ensure you spend a good time.
The little extra: make this moment unforgettable!
Our magic recipe is the mixture of three ingredients that make us vibrate: wine, gastronomy, and old cars.
Wine and gastronomy in Burgundy: tours in the vineyard
Epicureans and fine gourmets, at My French Tour, we like what is good and what makes sense, and we find it a shame to keep it to ourselves.
What we love is sharing. Sharing with you the wines we love, telling you about the men and women who make them, letting you taste the treasures of our local artisans, that's our philosophy.
We take you on the wine route, the Grands Crus road as well as that of the small ones, off the beaten track, to meet passionate and fascinating people. You have chosen Burgundy and you had a good nose, let us take you on an explosive trip!
A love for ecology & vintage
Because we've always had a crush on what's old and vintage, and because we hate throwing away, we got into car recycling, in other words: renovating vintage cars.
In these times of forced globalization, we shamelessly display our penchant for the jewels of the French automobile industry: Citroën for its mythical 2CV, Renault and its famous Estafette Alouette.
In the beginning, there was a 2CV…
Either a Charleston or a 1986 2CV6 Club, both completely renovated – a project that lasted two years. Aaaah the 2CV! Holidays for all classes, picnics by the side of the road, hand-cranked windscreen wipers… Our 2CV is undoubtedly our favorite for a romantic trip through the typical villages of the wine route and their old stones whispering as we pass by…
And Renault created the Estafette Alouette…
Okay… We are not like Aunt Suzanne though, going on a holiday the 4 cousins all seat at the back of the uncle's 2CV. We have better to offer : a beautiful Estafette from 1974, ready to regain its first youth, with 7 seats please !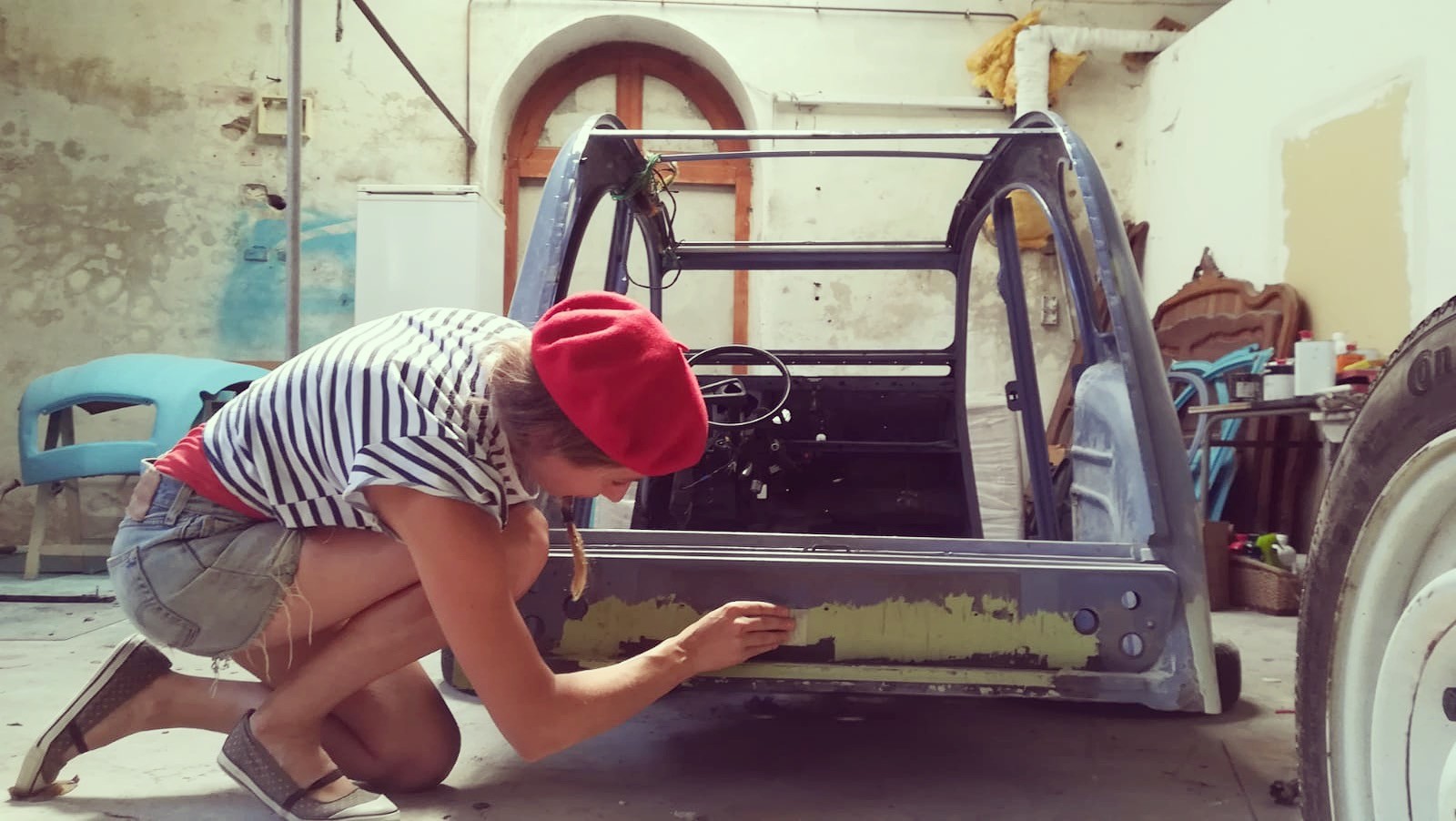 Who is behind My French Tour?
I'm Melanie. I'm Burgundy. Like good rum, I traveled and became a French teacher for foreigners. An opportunity for me to travel a little every day.
In fine weather, when the Burgundy fog rises, I escape from my classroom. At the wheel of my 2cv, I invite the epicureans to take the path of the vineyards, hair to the winds, for a slow journey on the burgundy wine route. And that's how between a French lesson and a country picnic in the middle of the vineyards, the magic works: that of the Frenchway of life.
My 2cv: a 1986 car that I completely renovated. An adventure that lasted almost 2 years before being able to ride freely.
My little moments of happiness: take the small country roads behind the wheel of my 2cv, when the hour of the aperitif rings, pick up cheese to finish my bread, watch the sunset on the vines, hear my foreign students exclaim Oh la la! with a perfect accent, have tea in my pastry shop at lunchtime, hear a million people say "oooh was my first car!" …
My favorite wine: if there was only one…
My favorite cheese: Epoisse
of course. My favorite pastry: the chocolate tart from
my favorite pastry chef. Spoken languages: French, English, Spanish.
My favorite proverb: It's not the destination but the path that counts! (And with an old lady like my 2cv, it makes perfect sense … 😉
Book a unique experience in Burgundy!